Работайте с крупнейшими компаниями вместе с нами
Мы работаем с такими компаниями как АО НК «КазМунайГаз» , АО «Казахтелеком», АО «Кселл» и другими!
Работая вместе с нами, вы сможете реализовать свой потенциал в крупнейших компаниях страны.
Отправить свое резюме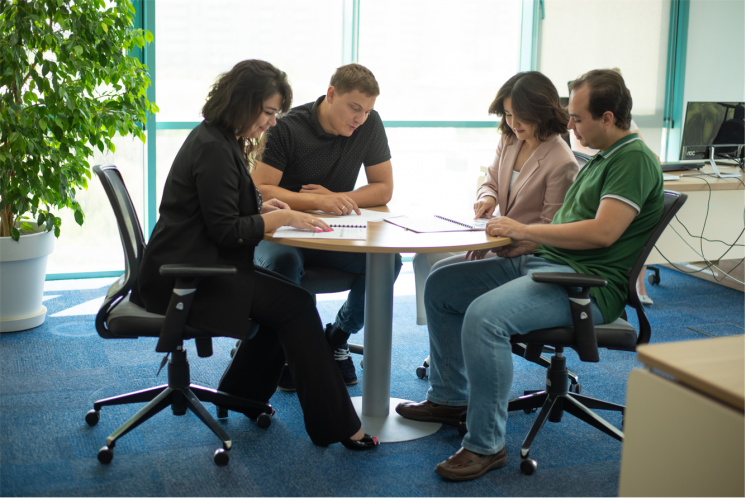 450
специалистов уже работают с нами по всей стране
8
вакансии, которые предоставляют отличные карьерные возможности
6
офисов в 4 регионах Казахстана
Открытые вакансии
SAP Workforce Analytics Consultant
iQ-Solutions
KZ
Full-time job 5/2/remote
IT On-site Support Engineer
Описание
Primary duties:
Provide IT On-Site Support Services in all COMPANY locations described in Article 3.1. (Ref. Table 1).
Provide IT services with focus on customer support and a strong steer on performance of service delivery and customer satisfaction for the various service audiences, e.g. VIPs, management, professionals, administrative, technical and standard users.
Receive calls, emails and tickets in ITSM toolkit with users' queries and follow Incidents resolution or requests fulfilment as per defined COMPANY IT processes.
Provide support to COMPANY users either face to face or over the telephone using remote management tools.
Resolve incidents or search for work around, escalate and route unresolved incidents to relevant support teams, and work together with other IT teams to restore normal IT service in accordance with SLA targets.
Follow standard procedures to update incident log, documenting necessary details in a central repository, progress checking, and ensuring that diagnostic information is provided for error resolution and incident analysis.
Install COMPANY Operating System and software on IT End-User Computing equipment.
Troubleshoot system problems and solving hardware or software faults, report on re-occurring technical issues, arrange root course analysis and find long-term solutions.
Troubleshoot security issues on End-User Computing equipment (e.g. fix of issues with Antivirus Protection Systems, Microsoft Windows Patches etc.).
Support Printing Services, which includes:
Installation of printing/plotting/scanning devices
Replacement of printing consumables (applicable for Bautino Base and Offshore only)
Physical resolution of common issues (e.g. paper jams)
Administration of Print Servers.
Provide 2FA service (i.e. EMC RSA etc.) – assign and provide tokens or smart cards to End-Users.
Provide Meeting Support Service:
Set up of audio/video conferences
Perform meeting, events support at dedicated facilities
Execution of meeting room inspections on weekly basis
Installation of Meeting Room equipment as per COMPANY requirements (audio/videoconferencing, projecting equipment)
Execute cable management in meeting rooms and user workplaces upon requirement.
Support and participate in IT projects.
Provide physical support for IT infrastructure equipment (e.g. physical installation of network switches, replacement of back up tapes, etc.) and inspection of IT facilities (Server, Network rooms) at COMPANY locations where Level 2 technical teams are not physically presented e.g. Bautino Base and Kashagan.
Carry out other tasks related to IT End-User Computing services as instructed by Line manager (and/or Functional reporting manager where applicable) within assigned area of responsibility and professional qualification
Knowledge:
Possesses a general understanding of the business applications of Information Systems;
Communicates well, both verbally and in writing, and has the skill to influence through persuasion in a formal context;
Displays a responsible attitude to following procedures, keeping records, and caring for equipment and other assets;
Is familiar with IT hardware, software and operating procedures affecting own area of responsibility;
Knowledge of Microsoft Windows Server platforms and associated services. Good knowledge of MS Active Directory and MS Exchange services is mandatory;
Intermediate level of English: writing and speaking.
Education:
Bachelor's Degree or higher in Engineering, Information Technology or related field.
Experience:
Has minimum 2 years' experience in IT Service Delivery area in support role.
Certification:
Preferred to have: Microsoft Office Specialist (MOS)
Must to have: Microsoft Certified Solutions Associate (Windows 10 certification qualifies for a position as a computer support specialist) or higher
Preferred to have: ITIL Foundation (v3 or v4)
Не нашли своей вакансии?
Если вы уверены, что сможете заинтересовать нас, отправьте нам свое резюме в форме ниже или на емайл hr_iqs@iqs.kz, мы с рассмотрим вашу кандидатуру